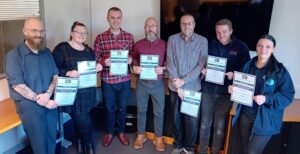 Mental Health Within The Workplace
Recently, a number of employees from the Leyland Exports Group attended a mental health at work training course.
As a company, we take our employees' mental health and wellbeing very seriously. This course has created a go-to team of mental health first aiders within the Leyland Exports Group to be there for anyone who wishes to talk.
What Did The Course Cover?
The course covered the following topics:
Recognising possible signs and symptoms of a person that has mental ill health or are suffering from stress and understanding the stigma.
How to make a mental health plan and use this to help someone in crisis.
How to find external professional help and guidance.
Best practice in the workplace to ensure the best outcome.
Information on self-care to help aid prevention for all.
The course was run by Centaur Training Services and was awarded by the First Aid Industry Body.
Our Mental Health First Aiders At the Leyland Exports Group