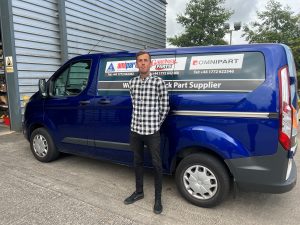 Our team is growing!
James has joined the Leyland Exports team as Parts Specialist. His experience and knowledge within the automotive industry means he is the perfect fit for this role. James will be liaising directly with our customers, providing quotes, processing orders and giving technical advice where necessary.
Previously James has spent 9 years as a mechanic and in his spare time, his love for cars sees him showcasing his Fiat Abarth at trade shows and other meetings within the UK. James owns one of the fastest Abarths currently in the UK which he has built and modified by himself and is going to continue pushing the boundaries with his own research and development.
We wish James all the best in his new role. After just one week at Leyland Exports he is already proving to be a great asset to the team!
Get in touch
Pick up the phone today and give James or call, or drop him an email with your truck part requirements. He will be more than happy to help:
+44 (0) 1772 621 321
info@leyland.co.uk