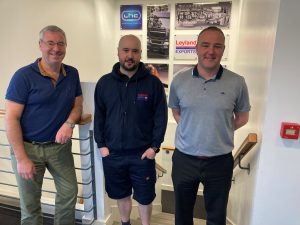 We'd like to introduce you to our latest members of staff to join the Leyland Exports Group.
Pictured here with Ian Lowe, our Commercial Director are Chris and Gary.
Chris Brookes has been internally promoted to Logistics Co-ordinator for Leyland Exports, working with each division to ensure that all customer orders are picked, packed and delivered on time to their destinations.
Gary O'Connor has joined our Amipart division as Customer Support Co-ordinator, assisting customers with their truck parts requirements.
Ian and the rest of our team at Leyland Exports wish them both the best of luck in their new roles.
Picture Left to Right – Ian Lowe, Chris Brooks, Gary O'Connor