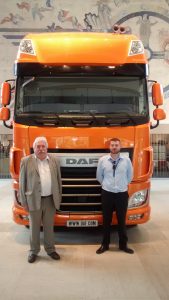 In May, DAF held an International Distributor conference in Eindhoven, the Netherlands.
Graham Ward (left) and Ben Newbery attended from Leyland Exports to learn about any updates on product development, systems changes and of any opportunities for further development.
Tours of various production facilities also took place as well as an opportunity to drive some of the latest Euro 6 trucks.
This was Ben's first visit to Eindhoven. He states, "It was really good to meet face to face with the various people we deal with at DAF. The facilities are excellent and you can see how the Company produces a world class product. The whole company is focused on quality."
Graham added, "It's great to meet all the international dealers again and discuss common issues. We are all focused on supporting the DAF product and have a customer base throughout countries such as Kenya, Tanzania, Malawi, Zambia, Zimbabwe, Nigeria and Ghana as well as many other markets. Each operation has its own challenges and it's great to share the experiences of other dealers."