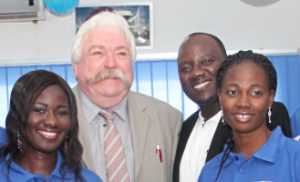 After many years in the motor industry (48yrs) Graham Ward has decided to retire. Graham said "It has been a pleasure to work with my many customers (many of you who I now class as friends) over the last 25 years that I have been involved in Exporting of automotive products. Initially this was with DAF International then Leyland Exports Ltd. Prior to moving into Export Sales I spent many years working in Africa for Leyland Trucks and then DAF Trucks in a service manager capacity and have since maintained my close links to the continent and most certainly will miss my visits to many of you.
I have been lucky and privileged in that I have been able to travel and visit many of you in Africa and to have travelled to South America, the Middle East and Europe as part of my work. To those of you who I have never had the pleasure of visiting or meeting but have sold trucks / buses / vans / cars / generator sets or spare parts to, a big thank you and I am sorry that we did not have the chance to meet.
For those many customers in the UK and especially the group of engine re-conditioners that I have dealt with over the last 10 or so years it has been fun and an exciting growth time for Omnipart who without your support, help, understanding and business would not have been possible."
Graham received various gifts from his colleagues as well as a card with all the usual best wishes and sarcastic comments. Below are a few pictures of Graham at work and 'play.'
Graham's vast experience, jolly attitude to work and ability to build relationships with all will be missed. However all the staff at Leyland Exports are very capable of stepping into his shoes.