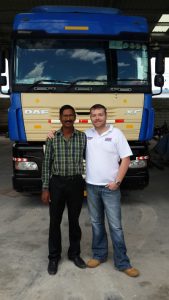 Recently Ben Newbery an Account Manager for Leyland Exports made his first solo trip to East Africa.
Ben has worked in the automotive industry for over a decade, joining Leyland Exports in 2011.
Ben accompanied Graham Ward a couple of years ago on a visit to Africa. Graham has been involved with Leyland and DAF in Africa for many years. He was the perfect travelling companion to assist Ben with learning about the African market due to his many years of local knowledge and experience.
During his recent trip, Ben spent 2 weeks visiting current and potential clients. His aim was to better educate himself on their operations and challenges that the operating conditions pose for the fleets of DAF and European trucks. He spent most of his first week in Kenya, specifically Mombasa and the remainder of his trip in Tanzania, splitting his time between Dar–es–Salaam and Mwanza, gaining invaluable experience from personal interactions with many transport and logistics professionals.
Ben's journey didn't get off to a great start, with a delayed flight from Manchester to Dubai. Although he made the onward flight to Dar es Salaam his luggage did not! He only saw his bags 4 days later. Since returning to the office Ben has been heard to mutter "I would do many things differently next time!" including, we would assume, packing a spare set of clothes in his hand luggage….just in case!
Ben said "Sitting down face to face with customers was great. I got to see their operations, which helped me to gain a better understanding of their requirements. Travelling around was a great experience but it was also hard work. I found everyone so friendly and helpful."
At Leyland Exports we strive to keep our employees with up to date knowledge of the automotive industry, whether this is in the UK, or world-wide to continuously improve the service to our clients.