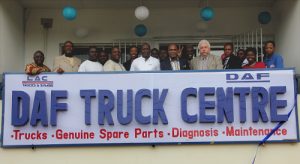 Recently Graham Ward, Account Manager from Leyland Exports visited a number of clients in Nigeria. Whilst with LAC Autos & Spares Ltd in Abadan, Graham held a question and answer session with local operators, pointing out the importance of using quality spares to obtain reliability.
Graham said, "Looking just at the cost of the part is not an effective way to judge value when that part might only last a third of the time a quality item might. Add to that the cost and risks associated with a breakdown and then saving a few Naira on a part becomes less important."
Members of the Team this year have also visited Zambia, Zimbabwe and Dubai to meet with existing customers and to also show prospective customers the vast range of parts the Group can supply.
During the year, numerous clients have visited Leyland Exports from a number of countries including Guyana, Nigeria, Ethiopia, Mauritius, Tanzania and Malawi.